PixelCheeseCake Ltd™

Josh & Joe play multi-player games
Founder(s)
Josh & Joe
President/CEO
Josh (Joe as CAO)
Other Employees
Holly, Izzy, Scorpain, Beric & Wertman8
Product(s)
Game Commentaries
Channel(s)
PixelCheeseCake
PixelCheeseCake Ltd
, known informally as 
PixelCheeseCake
or sometimes known as
Pixel-CC
, is a british organisation based in the United Kingdom, set up to produce (
let's play
) videos on
YouTube
.
Josh
and
Joe
, two gaming enthusiasts founded the little organisation.
Origin of name
The name "PixelCheeseCake" was an expansion of the original name "xgamingcheesecakex".  The name GamingCheeseCake was already taken, so when Josh and Joe noticed this, they made the decision to change the name.
The CheeseCake goes blue for April 2nd 2013.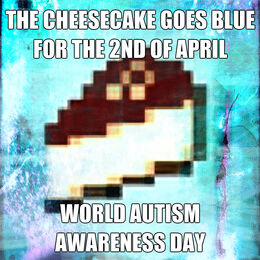 PixelCheeseCake posted over Facebook about world Autism Awareness day which both Josh and Holly support.
They tried to raise Awarness through both Facebook and twitter changing both there facebook profile picture and twitter and through this meme on the left
Links
YouTube: youtube.com/pixelcheesecake
Twitter: twitter.com/pixelcheesecake
Facebook: facebook.com/pixelcheesecake
Livestream: twitch.tv/pixelcheesecake
Steam Group: steamcommunity.com/groups/pixelcheesecake
Community content is available under
CC-BY-SA
unless otherwise noted.